On the big day the band were AMAZING 😍 Our dance floor was packed and the performances were faultless. We have received so many comments from our guests confirming the band were "brilliant", "funky" and "our favourite part of the evening".
Thanks so much Brother Ray we had the time of our lives… we wish we had another event so that we could book you again!!
Zoe & James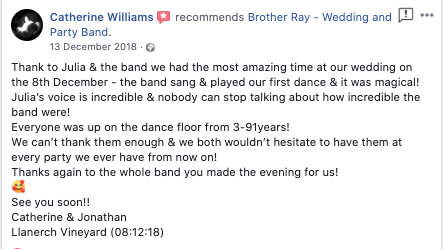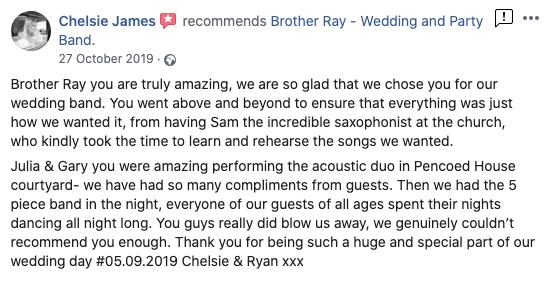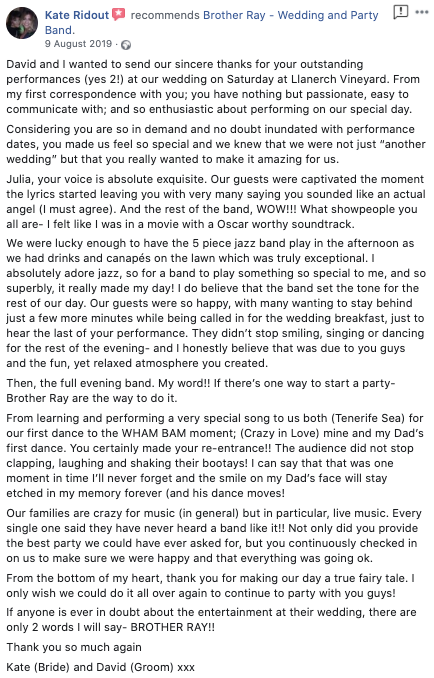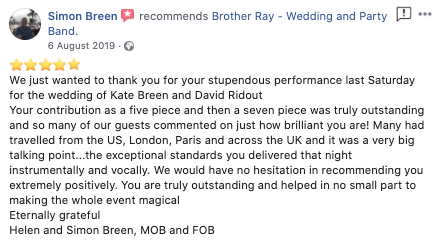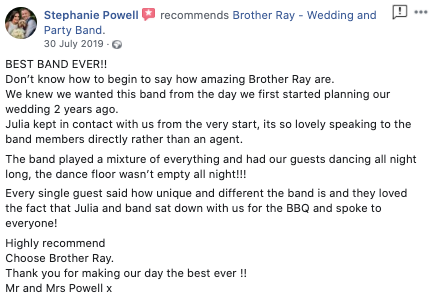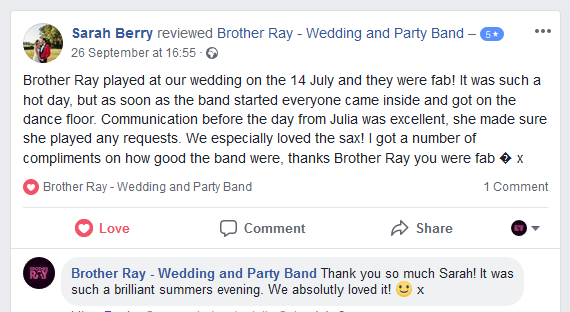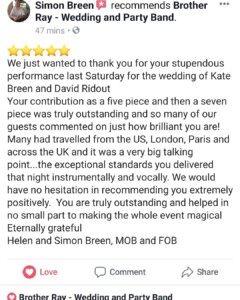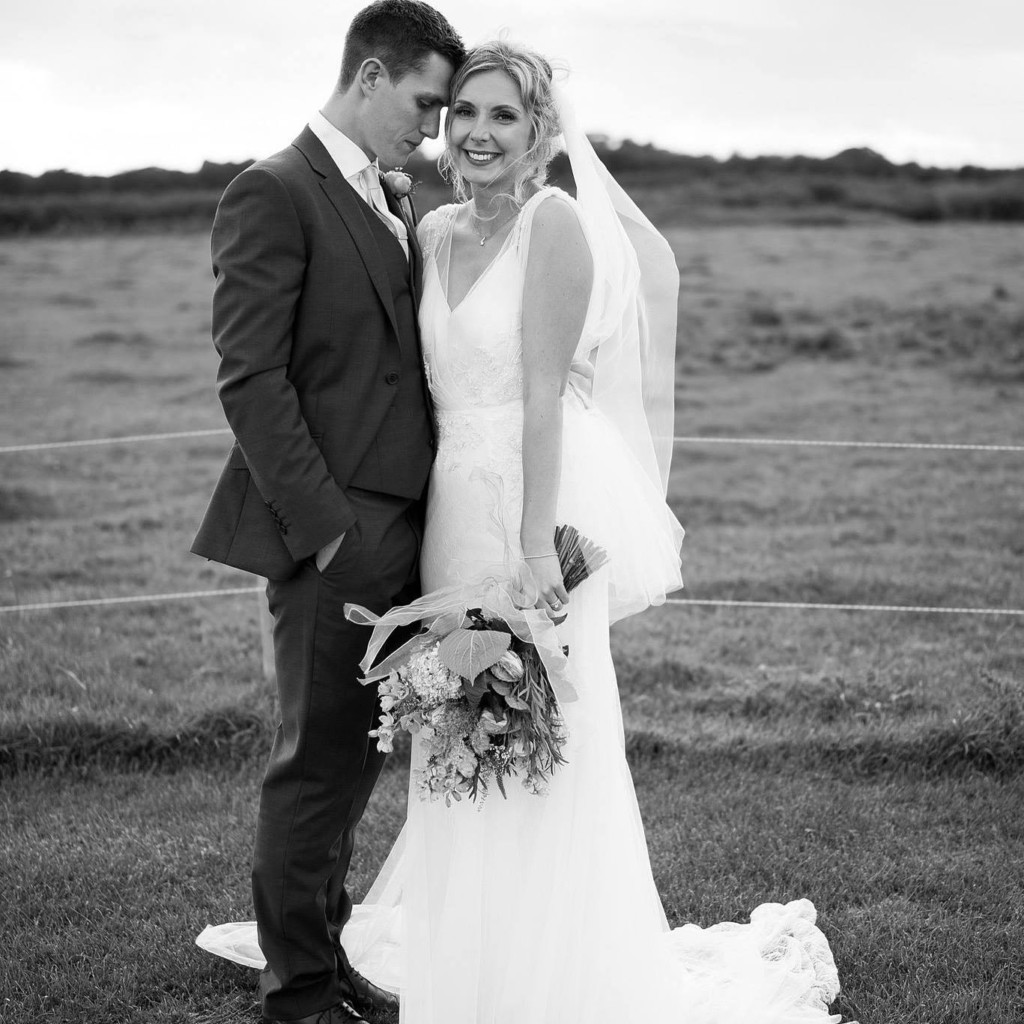 Brother Ray played at our wedding and Julia and the band were fabulous! The range of music was great and the dance floor was full all night. We have been told by so many of our guests what a fantastic time they had. The band were incredibly professional and read the crowd well all night to keep the party going. I would recommend this band to anyone! Thanks for helping to make our wedding the best day of our lives! Georgie & Sam Davis xxx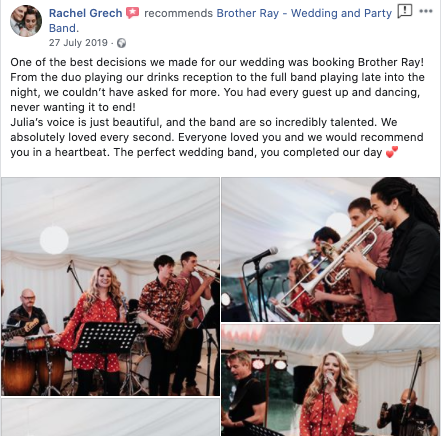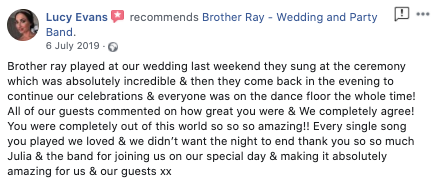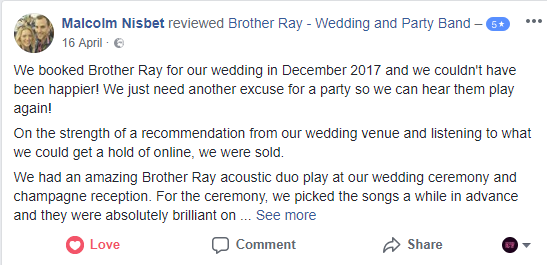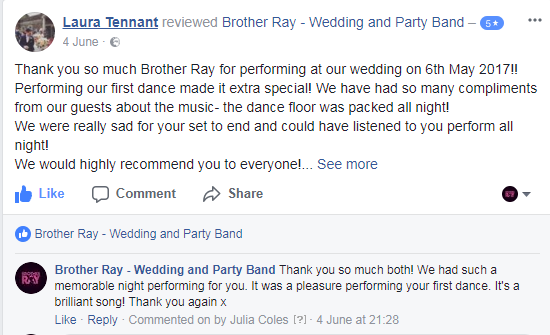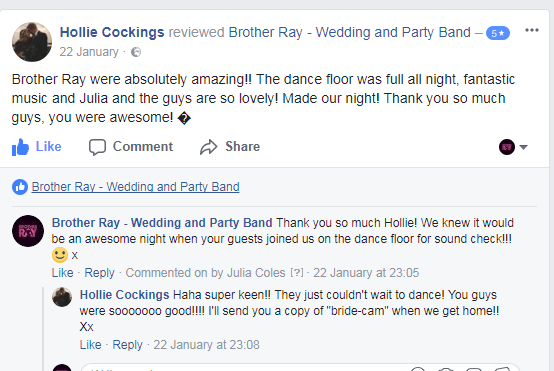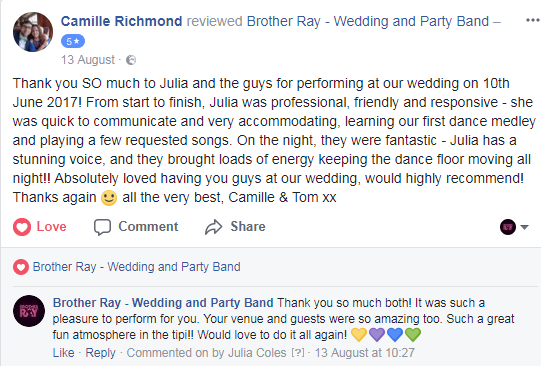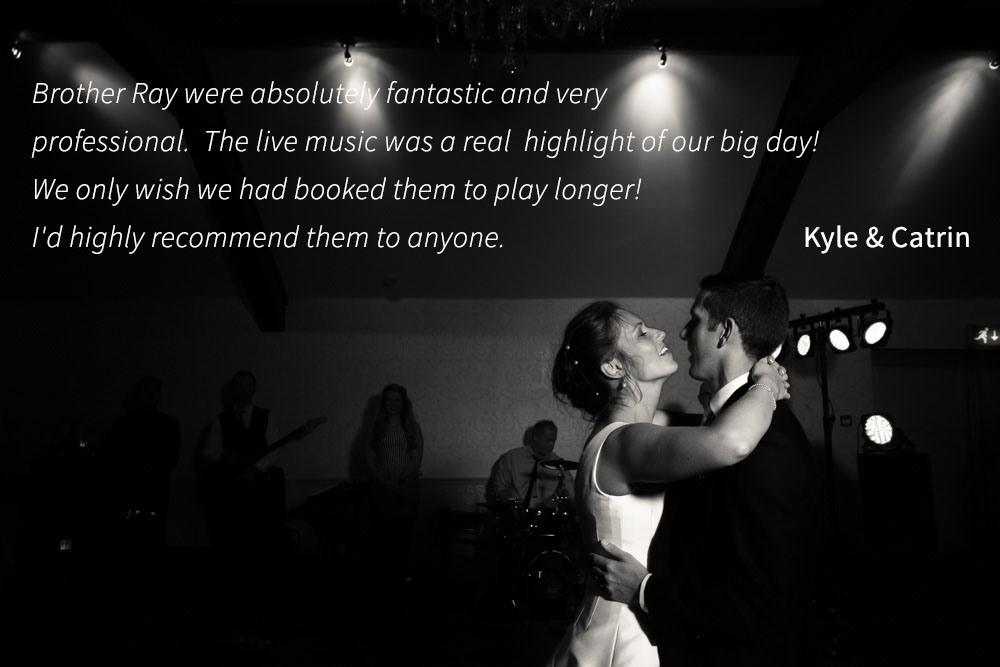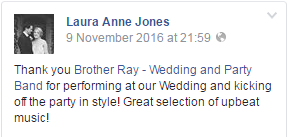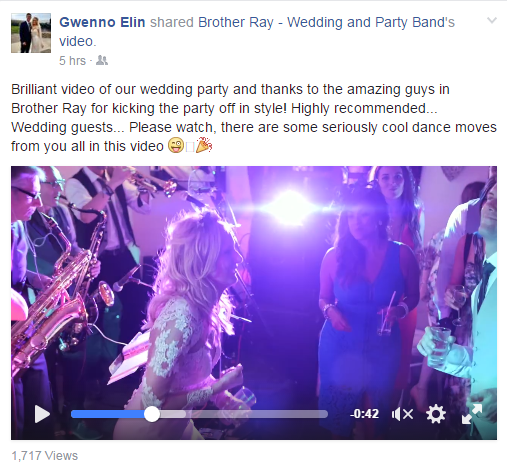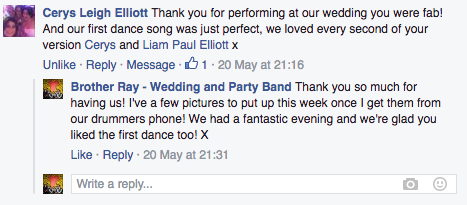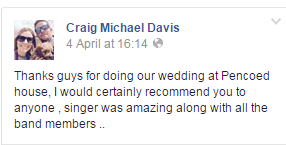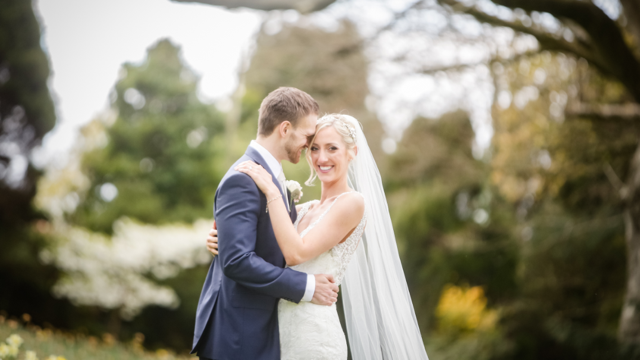 Hi Brother Ray – Just wanted to say a huge thank you for doing such a great job performing at our wedding in April.
"We spent ages and ages trying to find a band with great vocals as well as talented musicians and it certainly paid off! Julia your voice is amazing and you accommodated all of our requests to ensure we had a full dance floor all evening. We had so many compliments about the band and one of our guests has even booked you for her own wedding now. Any engaged couples who are unsure of what to do Brother Ray is the one!"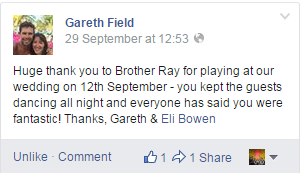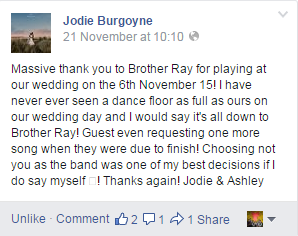 "Dear Julia & 'The Brother Ray Band,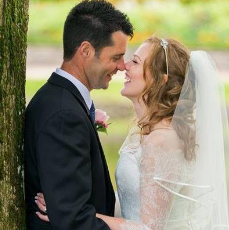 We would like to thank you, so very much, for helping to make our day so special. We couldn't have wished for a more wonderfully memorable Wedding, it was everything we hoped it would be and more.
Thank you for your very professional but personal service from beginning to end and for your incredible attention to detail. The music provided by 'the acoustic duo' during the wedding breakfast was so lovely; you have such a beautiful voice. You provided a wonderful, relaxed atmosphere for our friends and family whilst they enjoyed their food, which is exactly what we were hoping for. The wedding guests were so complementary of the entertainment you provided. Please pass on our thanks to Pete.
Thank you so much for singing our song so beautifully, 'Nothing's Gonna Stop us now' by Starship. Nothing prepared us for the overwhelming emotion we felt whilst we were dancing together as Man & Wife, to the song we danced to when we first met. Thank you, from the bottom of our hearts, for creating such a wonderfully memorable and special moment.
The evening celebrations continued to the wonderful sound of the eight piece band, much to the delight of our wedding guests. You created a wonderful atmosphere and everyone really enjoyed the live music you performed throughout the evening. Your set list was fab, an eclectic array of everyone's favourite songs, played to the highest standard. You and your band are so incredibly talented and you made our evening reception a roaring success.
Thank you for your invaluable advice and guidance throughout the planning process and for going to so much trouble to create a song list on your iPod of our guest's requests. We very much appreciate your extra efforts. We are so happy to have opted for 'live music' for our evening reception and so grateful to have chosen 'Brother Ray' to play such an important role in our special day. You have been an absolute pleasure to deal with and we would not hesitate to recommend you to other prospective brides & grooms.
We would like to thank you all, once again, for helping to make our Wedding the happiest day of our lives and for helping to create memories which we will treasure forever".
Rhys and Emma 2015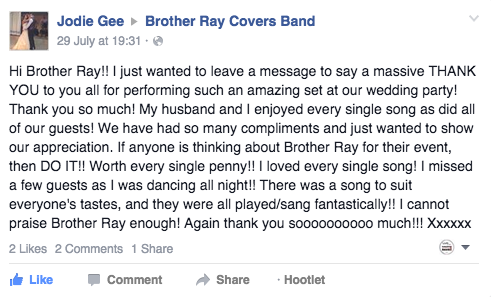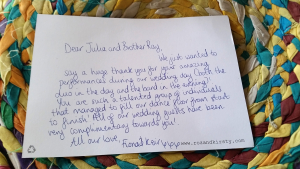 A lovely message from our beautiful couple Fiona and Keir who booked the Acoustic Duo and the 5 piece band to perform for them at the King Arthur Hotel in Swansea. We had a fantastic day with them and were welcome by their lovely families.
Hi Julia and the other lovely members of Brother Ray, Jack and I just want to say the biggest of thank you's for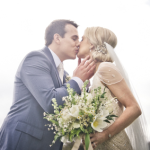 your absolutely amazing performance at our wedding on 4th April. From the moment We emailed back fore I just knew that I had made the right decision to have the acoustic duo for the service and drinks reception, and the 8 piece band for the night.   As soon as the band kicked off the dance floor was packed right until the very end. Every song was brilliant and your voice is just incredible! We were so pleased we decided to go for the 8 piece. All of our guests commented that you were the best live band they had ever seen. Thank you so much for making our wedding even more special. Jack and Julia Shaw April 2015 Photography Jake Morley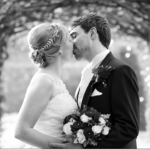 Hi Julia,  just wanted to send you a quick email before we go on honeymoon to say thank you so much for playing on our wedding day, you were all incredible on the day and we're the cherry on the cake and we both can't thank you all enough. No need to thank us, we should be thanking you. The band were absolutely incredible, everyone was saying how tight you were and the dance floor was never empty. It was perfect!  Luke and Gill McMullin December 2014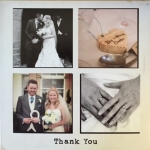 We just wanted to say thank you so much for being absolutely amazing and making our wedding day so much fun! Everyone loved you guys and people still talk about how great you were!!! You're absolutely brilliant! Thank you so much. Lots of love, Rhys and Hannah October 2014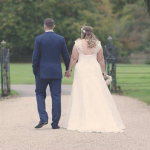 From the moment we made contact with Julia and Brother Ray I knew we were in safe hands. They were pleased to answer any queries and were willing to negotiate around our timings of the day. We knew from the YouTube videos and their website that they were perfect for us. We loved the way they sang great contemporary and old tunes with a Brother Ray twist. Booking and sorting out the payment for them was a breeze, Julia gave us everything we needed.
On the big day they arrived with lots of time to set up and didn't get in our way at all, Julia and the band introduced themselves and of course all so lovely and pleased to be there. When the time came for them to take centre stage I was blown away. They started off the evening entertainment of our wedding brilliantly. Everyone got out of their seats and were instantly drawn to the dance floor. I could not stop dancing to tune after tune.
Julia's lead vocals were on point and I enjoyed every second. They even surprised us with a song we requested but had not practiced as a band. Of course it went down a storm and I loved every minute. When they had finished their set Julia gave me a hug and said goodbye which I thought was a lovely personal touch and we thanked the band as they made sure they said goodbye.
Ever since the wedding we have had nothing but compliments from our wedding guests and even people asking us for their contact details. I don't think me and Jon can quite put into words how much we would recommend Brother Ray and we can't thank you them enough for helping make our day unforgettable. Emma and Jon November 2014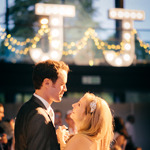 Hi Julia!  I know we have been very late in contacting you and saying a huge thank you! For playing at our wedding on the 16th (I don't know where the time goes!) as you can see there is an added benefit that we have our professional photos back-a few of which I have attached.
Thank you so much for playing such an amazing set on the day and your fantastic organisation in then run up. We were astounded how full the dancefloor was the entire night- and lots of guests commented that they had never seen such a full dancefloor at a wedding the entire evening. What's more, all guests from 2 years old to my 87 year old grandparents were dancing (they never dance anymore)- so that's a measure of how good you were!
We were so glad we found you, our wedding day would not have been the same without you.  Josie & James (Mr & Mrs Kerrigan) August 2014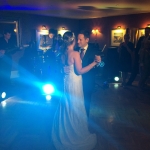 Just getting in touch to say thanks so much for playing at our wedding. The acoustic duo in the day helped set a really nice relaxed atmosphere and I thought the band were great in the evening. Above all Sian and I loved Fire and Rain for the first dance! Lots of guests have asked where we found out about you guys so I've told them about the BrotherRay website!  Alun and Sian Jones September 2014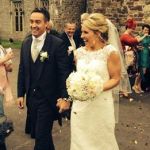 Dear Julia and Pete, Just wanted to say a HUGE thank you for helping to make our wedding day so special on Saturday. You really helped make the ceremony for me with such a beautiful rendition of All of Me and even though I didn't get to hear you sing very much during the drinks reception my guests were really complimentary!
Thank you again and we'll definitely be recommending you to our family and friends! Lots of love, Mr and Mrs Davies August 2014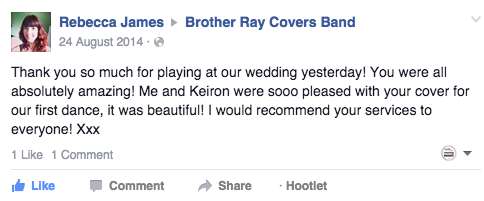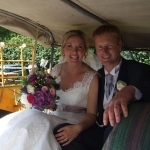 Dear Brother Ray,You were superb! Thank you for being the best wedding band we could have wished for. Your attention to detail in the planning was perfect (particularly considering we were organising our welsh wedding from New Zealand!), and on the day the music was exactly what we wanted – chilled out tunes from the duo in the afternoon and dance floor fillers all night long! We have lost count of the number of people who have praised us on our band (we're taking all the credit for you being great!). Thank you for your part in making our day absolutely perfect.Gareth and Olivia Dalley Pembrokeshire June 2014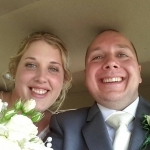 The music you played catered for the audience perfectly. Thanks again for learning our first dance, it was executed without fault. The feedback from our guests is great and they loved the music and the atmosphere. We will definitely recommend you to anyone looking for an up-beat band playing a varied selection of music. Everyone has said how amazing you were and we could not have wanted anything better…..you were perfect, we loved every second! Gareth and Beth White Rhosygilwen West Wales June 2014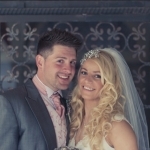 Dear Julia and the Brother Ray band… Thank you so much for being there at our wedding to entertain us so amazingly. Our guests have said time and time again how amazing your band was! You are beyond talented, seamless and tight as a band, great tunes, fabulous personalities on and off the stage and got everybody up on the dance floor! What more could we ask for??? Myself and Gethin would get married all over again just to hear you guys perform for us one more time! Thanks so much for being the BESTESTEST band we could ever have wished for. Lots of love, Toni and Gethin Davies May 2014 – Photography Lowri Pindrell
We did just want to say a massive thank you to you and the rest of the band. It was a fantastic day and everybody commented on how fantastic the band were. The first dance was beautiful and Dave personally enjoyed his rendition of Mustang Sally (you have the patience of a saint by the way lol). We will thoroughly be recommending you to all our friends and family at every opportunity. Amelia and David May 2014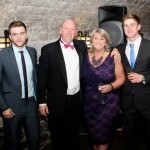 I wanted something special for my 50th Birthday party and was determined that a live band would be part of that. You were superb, we loved the music choices and the way you helped us keep the dance floor full.  Everyone – from the 20 year olds to the 80 year olds remarked on what a fantastic band you were and I've recommended you widely since. Thanks for vein part of a fantastic night, and I'm looking forward to enjoying you again this year! Louise, 50th Birthday Party 2013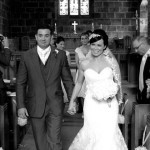 "If you are in two minds about booking this band, don't spend any more time thinking about it, just book them! Julia and the rest of the band played at our wedding on the 7th June and made the whole evening perfect. We had guests from theirearly 20s to approaching 80 years old and the dance floor was full all night. You were an absolute hit with everyone! Book them while you can! I can't recommend them highly enough! Thank you Brother Ray, you are fabulous. "One of the best bands around" Lots of Love Mr & Mrs Davies xxxxxx" Mr and Mrs Natasha Davies June 2013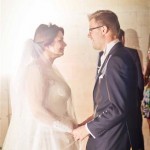 "Adam and I were delighted with Brother Ray's performance on our wedding day! Julia's stunning voice and the band's amazing music came together and got everyone on the floor enjoying themselves. I can't recommend Brother Ray highly enough, thank you all for helping make our wedding so special. " Jess and Adam Bailey May 2013 xxx  Image Jake Morley
"There were a few things that were very important to us when organising our wedding – good food, good wine and a good live band.  As far as the band was concerned, Brother Ray were fantastic.  From the moment they kicked off with "Signed, Sealed, Delivered" to their final encore, they had the dance floor full.  Great tunes and a fantastic sound.  I highly recommend the full 8 piece band – the brass section were awesome.. Toby & Georgina, June 2013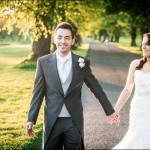 "Me and Sophie can't thank you enough for making our day truly special and unique.  You and Pete, as the acoustic duo, created a chilled out atmosphere whilst keeping the guests entertained with great music. The full Brother Ray band were out of this world and brought the evening party to life.  They played a great mixture of classic and new tunes and the dancefloor was packed from start to finish which proves just how fantasic you are – and the fact that nobody has stopped talking about you. Can't wait to see you in the future at some of your gigs around Cardiff! Thankyou, thankyou, thankyou!!" Ross and Sophie Wedding May 2013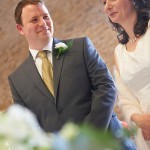 "We just wanted to send you a quick email to say thank you so much to you and the band for Saturday night. You were all amazing, all our guests commented on how good the music was (especially, Pete the chap with the funky moves on the dance floor)." Andy and Jackie Lowe May 2013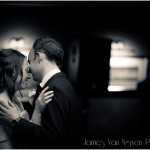 "We really wanted to thank you and the rest of the band for performing at our wedding. It was wonderful to see everyone dancing all night! It was wonderful and has given us memories we will treasure forever." Sarah-Jane and Stuart Powell April 2013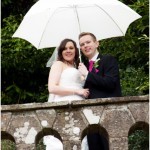 "Thank you so much for your acoustic performance at our wedding. Your voice was beautiful and the guitarist fantastic! You helped create the perfect atmosphere. Although it was raining outside, when you sang the room felt like a hot summer's day! So many of our guests have commented on how great you were so I'm sure you'll be getting some bookings from them. " Nic and Jemma Rodgers, Wedding, Acoustic Duo April 2013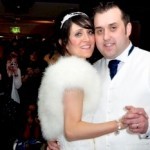 Julia and the band were fabulous, everyone loved them and commented how amazing the evening celebrations were.  Their performance of our first dance was perfect. They got everyone up dancing with the great music they performed. A great evening, a great band, some great funky dance moves by all. Thank you, would be a definite choice for any future celebrations and would definitely recommend to all." Heidi and Rhys March 2013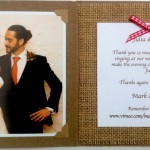 "Thank you so much for playing and singing at our wedding, you helped make the evening celebration so much fun. Thanks again and lots of Love, Mark and Sian" Mark and Sian Tambini December 2012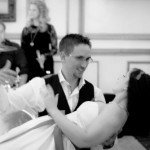 "Thank you Brother Ray for performing a fantastic set at our wedding at few weekends ago in Brecon! Judging by the constantly packed dance floor, I think it's fair to say that everyone, including myself and Rob, had a fab time! Thank you again, you guys FUNK the party ;)" Laura and Rob Walker August 2012